The next stop on my blog tour for Ruthless Perfection is It's Raining Books! Stop by and enter to win a giftcard.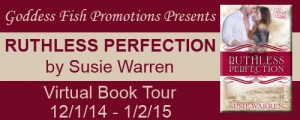 It's Raining Books Interview:
Do you have any odd or interesting writing quirks, habits or superstitions?
I have a tendency to write early in the morning as the sun is rising. The house is very quiet at this time and the phone seldom rings. As I get drawn deeper into the story, the house could go up in flames and I may not realize it as I keep putting words on the page. I also like to wear the same cashmere sweater and keep my office set up in the same way.
For the full interview, visit: